Waving An American Flag Is Now Illegal On Overpasses in Campbell, Wisconsin.
In Campbell, Wisc. it is now illegal to display a flag or a sign on overpasses, punishable by a $132 fine. Protesters claim that the new ordinance infringes on their constitutional rights. While the town council claims it poses a risk to drivers who might become distracted by their flags and signs.
While protesters were holding signs and waving flags on the overpass to address their desire for the impeachment of President Obama, police arrived and started to ticket protesters who held flags, signs and even those who were just wearing t-shirts with messages. The police claim that they had been threatened and called "Nazi's" and "Brown Shirts" for just enforcing the restrictions on free speech.
Currently commercial and D.O.T signs do not have the same restrictions, leaving some believing the town council which is mainly liberal democrats, are unfairly using the ordinance to limit the speech of those who oppose the president or the liberal agenda. Watch videos below and judge for yourself.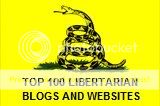 Submit Blog Directory